20 June 2022
The Clarity of Chaos
Performance
The RVC Emerging Asia Fund continues to be positive for the year whereas ASEAN is -4.4%, Asia Pacific ex Japan is -11.2%, the NASDAQ is -31.7% and Dogecoin is -68.3%.
In 2021, the Fund's performance was +34.2% and since the end of 2018, has outperformed ASEAN by +58%.
Chart 1: RVC Performance vs MSCI ASEAN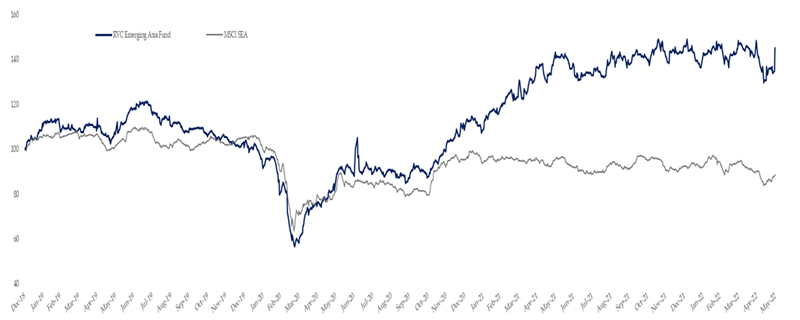 Chaos
Currently there is a void of clarity in the markets and economies with chaos ensuing.
In our opinion, this is a strong argument for the return of active investing over passive investing.
The US, UK and EU economies are slowing after their sugar stimmy highs in 2021 and there have been national security measures implemented by several countries just this year, such as:
India banning exports of Wheat
Indonesia banning exports of Coal and Palm oil
Malaysia banning exports of Chicken to Singapore
Thailand banning exports of Pork
Whilst these national security measures have since been relaxed, the continued chaos as a result of the measures continue to impact economies and business, further we have China is in the midst of a confounding zero-covid lockdown strategy and the situation in Russia & Ukraine continuing.
Combined the above with increasing commodity costs driving the cost of energy and inflation globally.
Chart 2: Brent Oil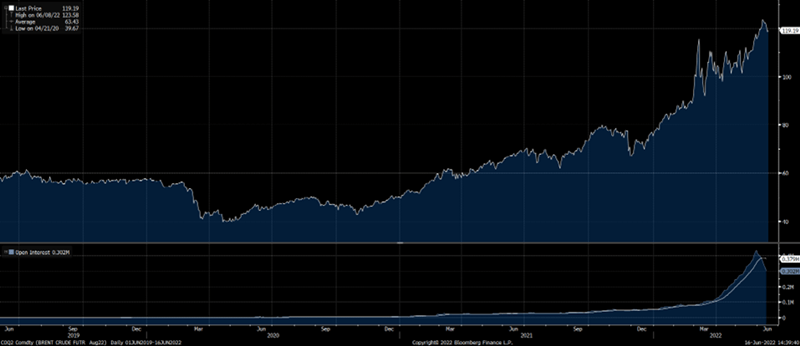 Chart 3: Natural Gas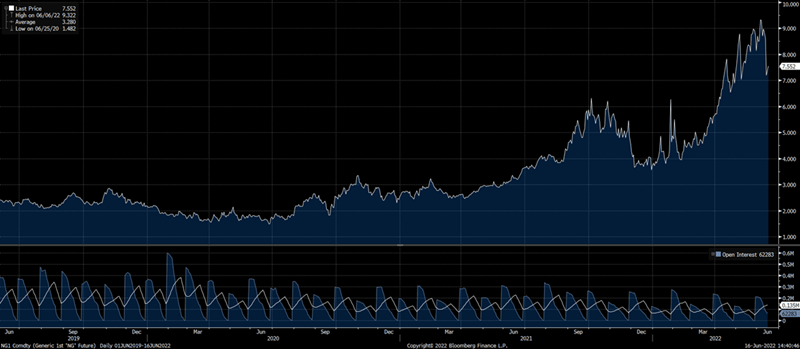 Chart 4: Coal (Newcastle)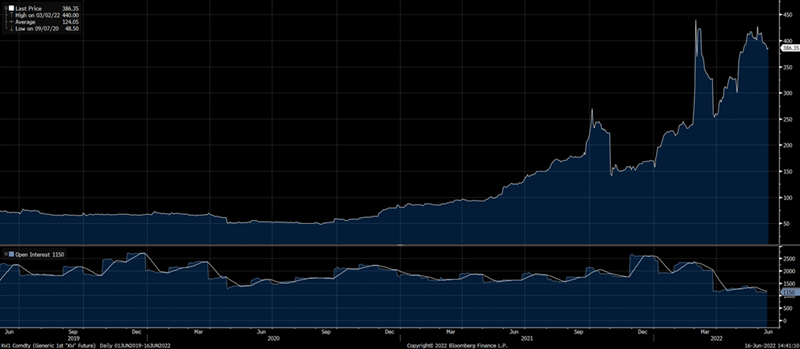 There is a cost to money again with interest rates globally picking up (interesting that China and Russia are the only two countries to cut rates), even the Japanese and German 10 year yields are positive!
Chart 5: Developed Markets 10 Year Yields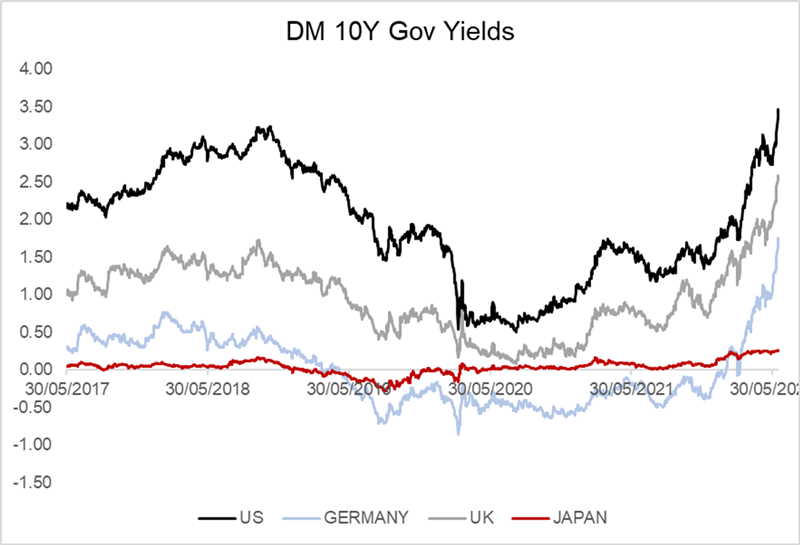 Source: Bloomberg, RVC
Chart 6: ASEAN 10 Year Yields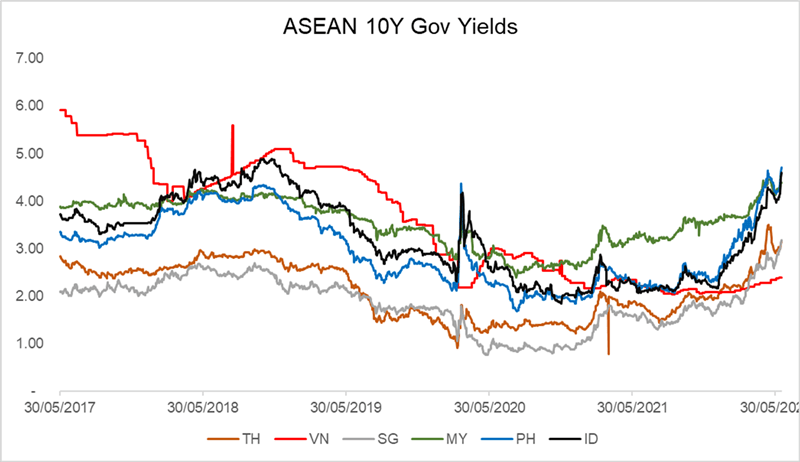 Source: Bloomberg, RVC
With there finally being a cost to money again, valuations will have to be reset from the supposed infinity that we had seen in some capital markets to perhaps one where valuations, cash flow and achieving a return on capital may again return to the forefront on investors mind as opposed to focusing on a unicorn made up total addressable market.
As a result of the change in the cost of money, there is volatility in equities and as one can see from our performance over the past 3-4 years we thrive in periods of volatility where the valuations of companies swing to and from "fair value" and the dynamics driving the countries, industries and companies we follow may be perceived to change at higher intervals. This allows us to make investments and realise returns more frequently whilst managing the risk and position sizing.
Why is ASEAN interesting?
ASEAN has lagged Western countries in reopening and has just reopened their borders for international travellers with domestic mobility rebounding strongly.
Chart 7: Google Mobility Index, ASEAN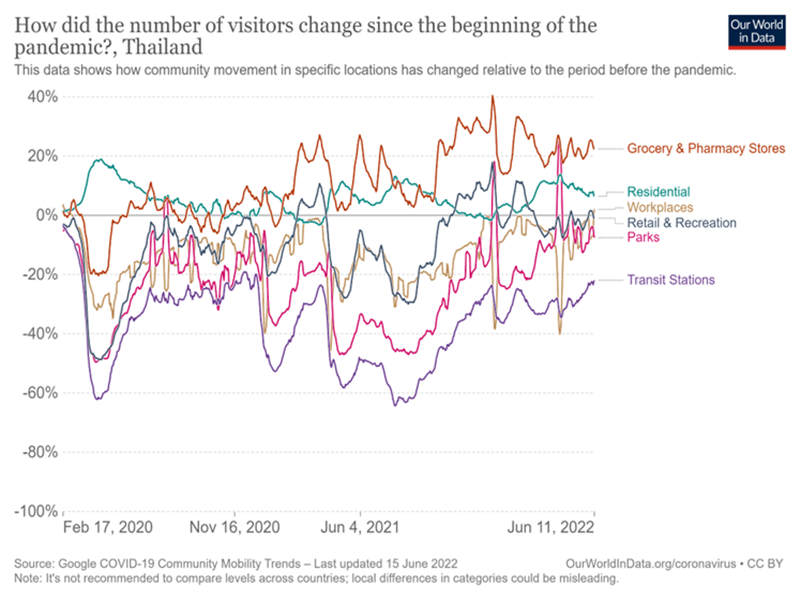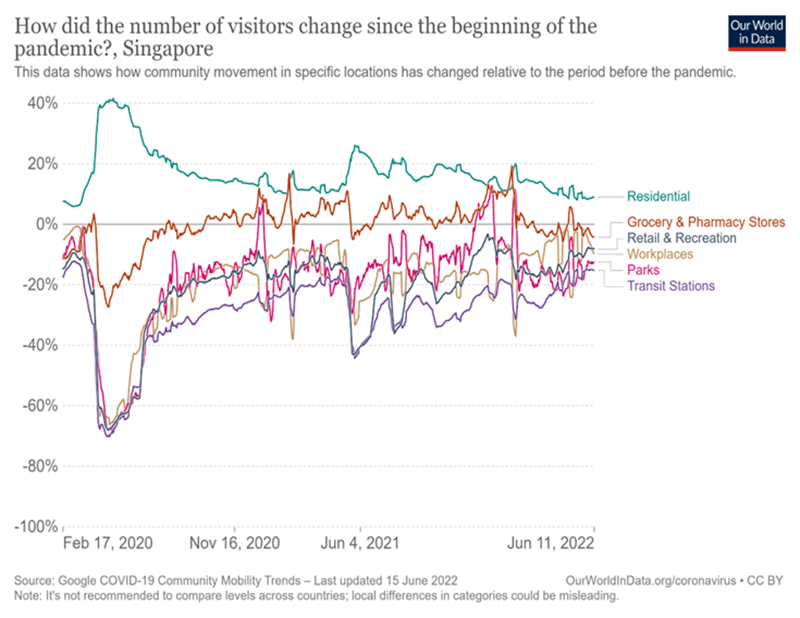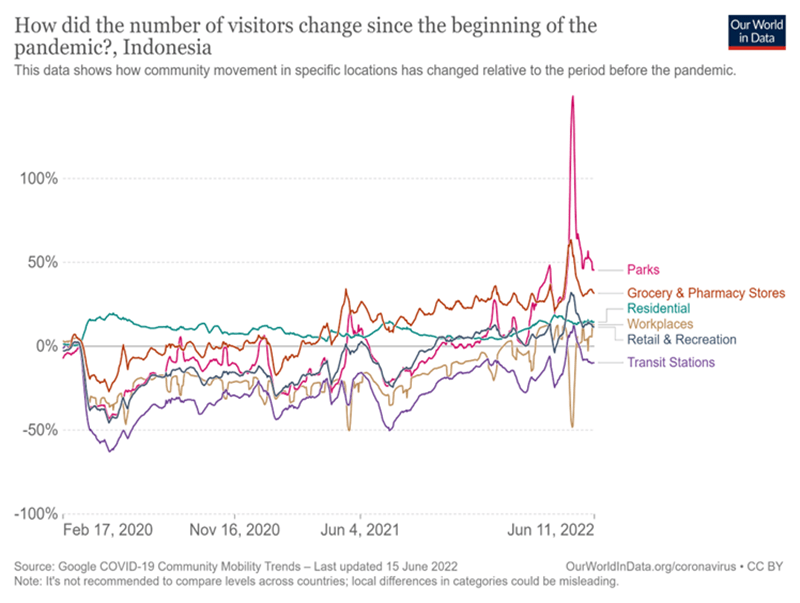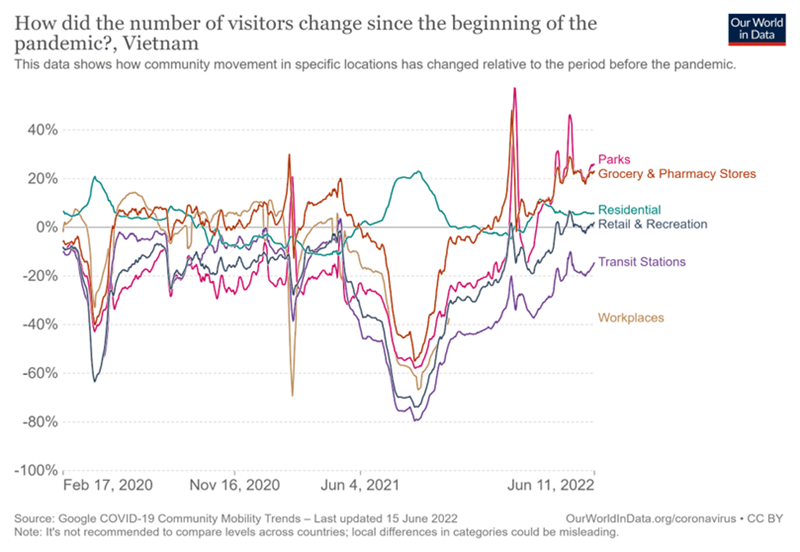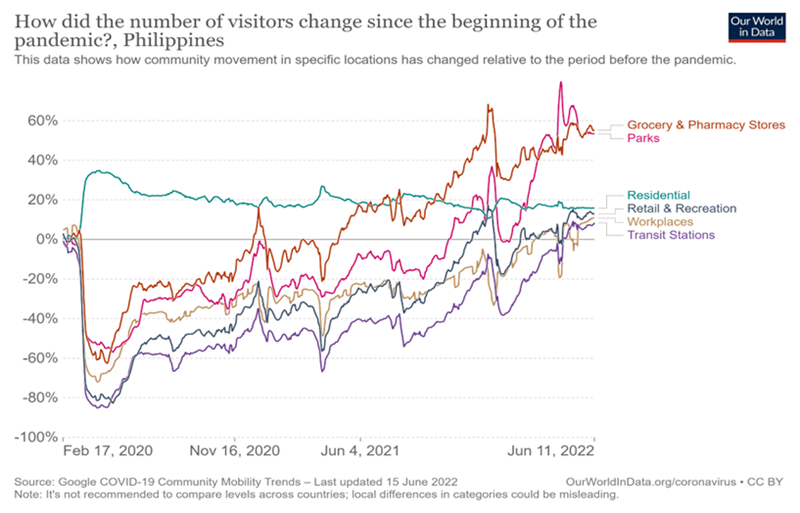 On a local level, countries such as Vietnam are showing domestic travelling already surpassing pre-Covid levels.
Chart 8: Domestic Travel - Vietnam
Source: MBKVN, RVC
For the first time in four years, significant capital flow (+USD 6 bn) has returned to ASEAN.
Chart 9: Equity Fund flows - ASEAN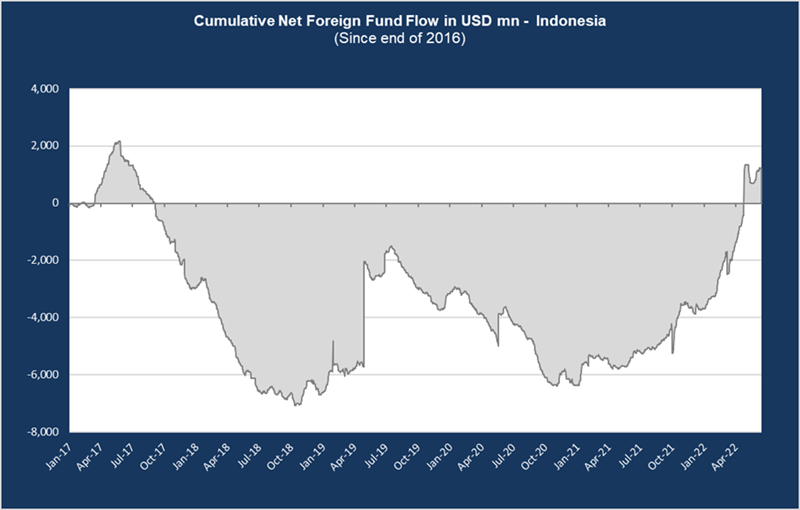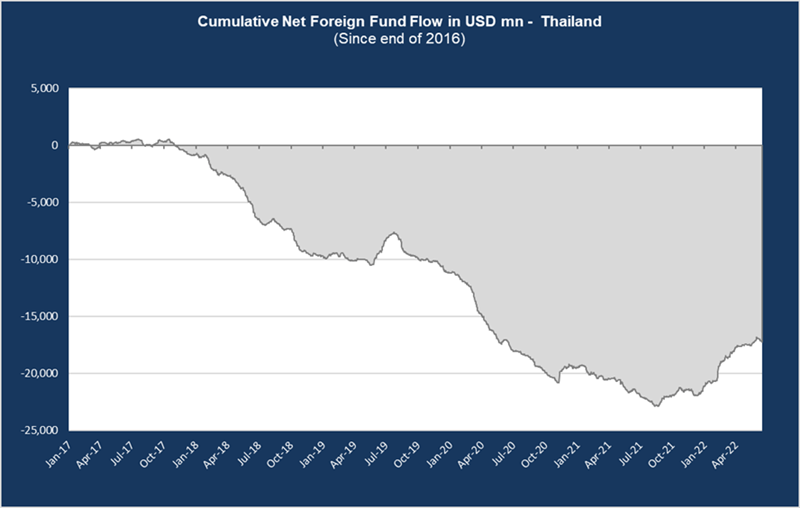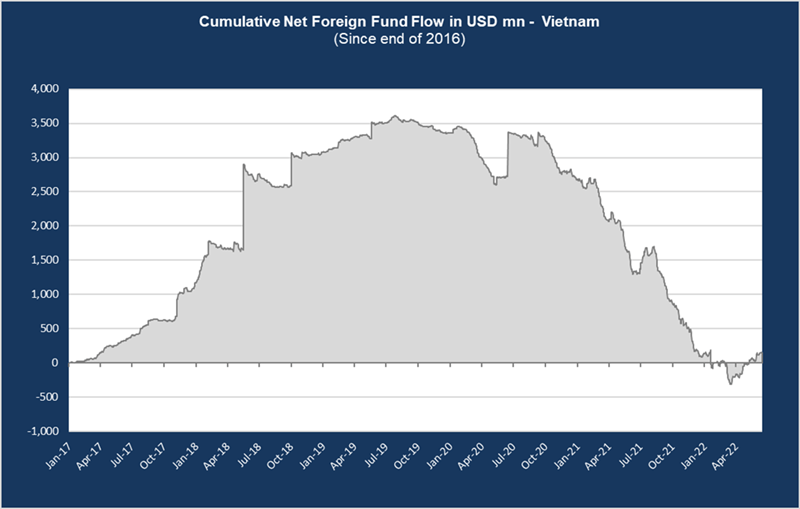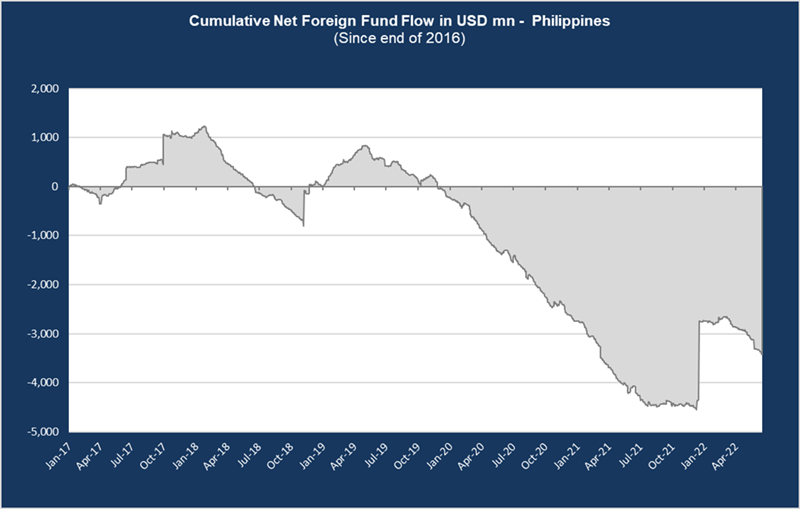 Closing
There is a clarity within this chaos, specific industries and companies are continuing to benefit and other industries are going to suffer. The necessity to remain nimble and active are paramount.
The backdrop ASEAN has is exciting:
The economies are reopening in the 2nd Quarter of 2022.
Domestic and regional travel are both accelerating strongly and surpassing pre-Covid levels in certain markets.
Capital inflow into the region turned positive for the first time in four years.
We remain optimistic that our holdings in ASEAN will continue to outperform over the next few years and look forward to guiding you through the chaos.