16 August 2021
2Q 2021 Commentary
In the First Half of 2021, the Fund was +26.9% compared to MSCI ASEAN which was -3.4%. For the past 12 months, the Fund is +55.9% compared to MSCI ASEAN which was +10.0%.
Currency Impact
Since the mid-June US Federal Reserve meeting, which hinted towards a potential tapering of asset purchases and a potential interest rate hike, the currencies in the region declined, having a direct impact upon the performance of the Fund in the short term.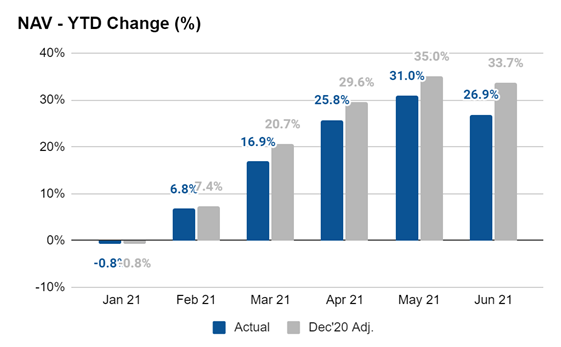 Graph 1: Fund performance comparison excluding currency impact
As shown, the decline in ASEAN currencies, especially the Thai Baht since Mid-June has reduced returns for the first half of 2021 by -6.8%.
Strategy
Since May/June all of the ASEAN region has been in a form of lockdown, with restricted mobility, travel restrictions, and the inability for small businesses to operate. This situation has led to our continued viewpoint that the businesses in the following industries will continue to thrive:
Supply chain
Commodities
Market share/business recovery
Non-bank financials/bad debt collection
Vietnam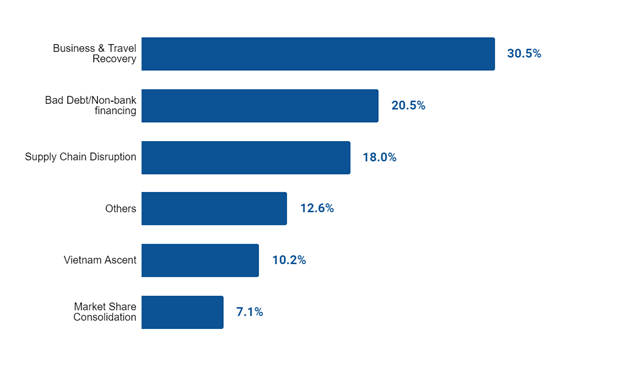 Graph 2: Key Sector Weightings
Key Investment Changes
Vietnam
In total, Vietnam represented ~10% at the end of 2020 with the predominant weightings in VPB, TCB, and VCI. During the Second Quarter of 2Q21, the weighting in Vietnam increased to ~20%, primarily due to the strong share price performances of both VPB and VCI which both increased ~200%. As a result of the rapid share price movements we scaled down the weightings.
At the end of 2020, VPB represented a ~4% holding of the Fund, as the share price increased by 2x, we reduced the weighting on the holding throughout 2Q21 to today's weighting where it is ~2%. The continued strong performance of the bank over the past 4 years appeared to be finally realised this year and is now trading at ~2x PBV with an ROE north of 20%.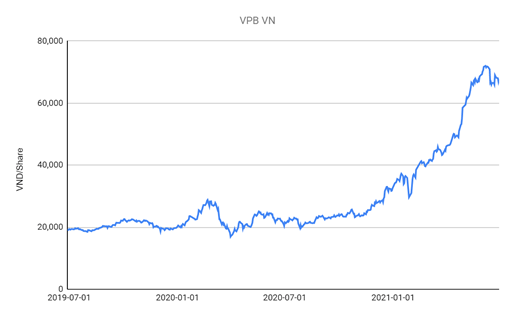 Graph 3: VPB 2-year share price
With VCI, which is Vietnam's largest Investment Bank & Foreign Institutional Broker, where the hidden value in its investment holdings may have been noticed by the market, we also took profits to reduce the weighting to ~2%. In addition to these changes we initiated new positions in a ports operator and a delivery services company.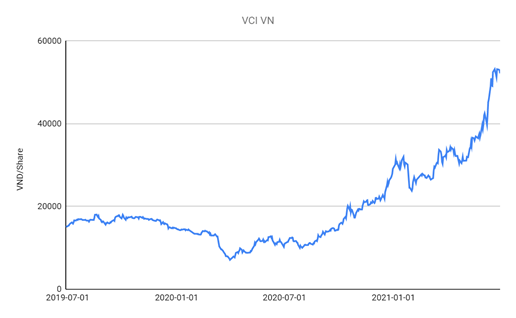 Graph 4: VCI 2-year share price
Commodities
We fully exited BANPU TB due to the company's strategy to focus more on clean and renewable energy combined with an equity capital increase by doubling the equity. Our thesis for investing in BANPU TB in 3Q20 was to benefit from the expected increase in coal and natural gas prices, which materialised, as such, we divested and reinvested these proceeds into ITMG IJ. Further, we increased the weighting position in PTTEP TB during the Quarter. Finally there were full exits of JPFA IJ and CPIN IJ as the share prices rose due to the government's culling of chickens in the industry.
Supply Chain
Two additional investments (III TB and SONIC TB) in Thailand that are logistic players covering land, sea and air freight both of which are benefitting from disruptions and the expansion of e-commerce both in Thailand and the region.
Non-Bank Financing/Bad Debt
Exited JMT TB due to high valuations and put the capital into SAWAD TB, ASK TB, JMART TB, NCAP TB. As these companies are going to benefit strongly from the demand of financing requirements throughout the country as commercial banks pull back.
Market Share and Business Recovery
Due to the latest lockdowns in the region we added positions in retailers in Thailand and Indonesia as their share prices/valuations became attractive again. These include RALS IJ, CRC TB, and CPN TB which has been on an acquisition spree over the past two years with the latest acquisition being a stake in Siam Future Plc (SF).
Thai Hemp
As written in the First Quarter 2021 Letter, we allocated close to ~5% of holdings in multiple Thai names that may benefit from the creation of this new industry in Thailand. Due to the rapid share price appreciation in several of the holdings (DDD, ICHI, SUN, BC) we divested the investments and currently hold ~2% in this industry.
Tickers mentioned:
VPB VN - Vietnam Prosperity Bank.
TCB VN - Vietnam Technological and Commercial
VCI VN - Viet Capital Security
SAWAD TB - Srisawad Corp PCL
ASK TB - Asia Sermkij Leasing PCL
JMART TB - Jay Mart PCL
NCAP TB - Next Capital PCL
BANPU TB - Banpu PCL
ITMG IJ - Indo Tambangraya Megah
PTTEP TB - PTT Exploration & Production PCL
JPFA IJ - JAPFA Comfeed Indonesia Tbk
CPIN IJ - Charoen Pokphand Indonesia Tbk PT
III TB - Triple i Logistics PCL
SONIC TB - Sonic Interfreight
DDD TB - Do Day Dream
ICHI TB - Ichitan Group
SUN TB - SunSweet
BC TB - Boutique Corporation
RALS IJ - Ramayana Lestari Sentosa
CRC TB - Central Retail Corporation
CPN TB - Central Pattana
Disclaimer:
Important: The above information is not for general circulation and should not be considered an offer, or solicitation, to deal in any of the mentioned funds. The information is provided on a general basis for information purposes only, and is not to be relied on as advice, as it does not take into account the investment objectives, financial situation or particular needs of any specific investor. Any research or analysis used to derive, or in relation to, the information herein has been procured by Ross & Van Compernolle ("RVC") for its own use, and may have been acted on for its own purpose. The information herein, including any opinions or forecasts have been obtained from or is based on sources believed by RVC to be reliable, but RVC does not warrant the accuracy, adequacy or completeness of the same, and expressly disclaims liability for any errors or omissions. As such, any person acting upon or in reliance of these materials does so entirely at his or her own risk. Any projections or other forward-looking statements regarding future events or performance of countries, markets or companies are not necessarily indicative of, and may differ from, actual events or results. No warranty whatsoever is given and no liability whatsoever is accepted by RVC or its affiliates, for any loss, arising directly or indirectly, as a result of any action or omission made in reliance of any information, opinion or projection made in this information. The information herein shall not be disclosed, used or disseminated, in whole or part, and shall not be reproduced, copied or made available to others. RVC reserves the right to make changes and corrections to the information, including any opinions or forecasts expressed herein at any time, without notice.